Animal Camp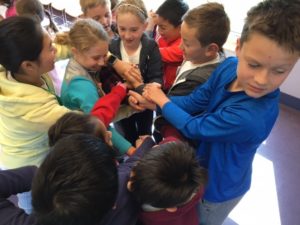 Our summer camp is an intensive learning experience for students that love animals. We emphasize responsible pet care and foster children's understanding and concern for all species. Guest speakers bring a variety of pets for the campers to meet. Besides meeting different pets, camp activities include visiting our Wildlife Center, practicing dog training, playing pet-related games, and learning about current animal-welfare issues.
Animal Camp registration is now full and all waitlists have been closed. Please keep us in mind for your 2023 summer plans.
Summer 2022 Animal Camp dates are:
June 13 – 17 (ages 8-10)
June 20 – 24 (ages 11-13)
June 27 – July 1 (ages 8-10)
July 25 – 29 (ages 8-10)
August 1 – 5 (ages 11-13)
August 8 – 12 (ages 8-10)
Want to learn more about Animal Camp or add your name to the list for an email reminder prior to registration? Contact Rachel Mariel at rmariel@phs-spca.org or 650-340-7022 x369.
What are the age requirements to attend Animal Camp?
We offer camp sessions for two different age groups, 8-10 years old and 11-13 years old. While the curriculum for both age groups is similar, speaking points and activities are tailored to be age appropriate. Therefore, it is important for the structure of our program and the experience of the students that campers of similar age be grouped together and we are unable to make exceptions to age requirements.
Can I register my child for more than one week of Animal Camp?
Sorry, no. Due to high demand we try to allow as many children as possible attend Animal Camp. Since each week of camp has the same curriculum, your child would not be gaining new experiences by attending more than one session.
My child attended Animal Camp in the past, can I sign them up to attend again this year?
Sorry, no. Due to high demand and long waitlists, we prioritize allowing new children to experience Animal Camp each year. However, we are happy to add your name to the backup list and if space is available in the weeks prior to camp, we occasionally draw from that list and allow previous campers to attend again. If you would like to add your name to this list, email Rachel Mariel at rmariel@PHS-SPCA.org.
What is the timeframe of Animal Camp?
Camp starts at 9:00am and ends at 2:30pm. We are unable to offer extended childcare prior to or after camp hours. Please drop off your child no earlier than 8:50am and pick them up no later than 2:40pm.
Where is Animal Camp hosted?
Camp is held at our Lantos Center for Compassion at 1450 Rollins Rd, Burlingame, 94010. Please don't confuse this with our other shelter location in San Mateo. Camp is hosted in the Multipurpose Room which has an entrance on Edwards Court closest to Rollins Road where you can enter to sign your child in each morning. The side door will be propped open by 8:50am, all other doors will be locked.
What should or shouldn't my child bring to Animal Camp?
Your child needs to bring a lunch and water bottle to camp each day. We provide vegan snacks each afternoon if safety regulations surrounding COVID-19 allow us to do so. In addition, sunscreen and a warm layer such as a sweatshirt are beneficial. The shelter dress code requires campers wear long pants and close-toed shoes to safely interact with animals. Please don't allow your child to wear shorts or sandals. Cell phones are permitted so long as your child uses it appropriately. We are not responsible for lost, stolen or broken devices. Your child is not allowed to bring their own pet to Animal Camp. Please do not bring your pet to pick up or drop off your child at camp.
Do you have guidelines regarding allergies and/or medications at Animal Camp?
It is common for children with mild animal allergies to attend camp. However, it's important that parents let camp staff know in advance so we can plan for how your child will manage animal interactions and symptoms of their allergies. Call Rachel Mariel to discuss your child's allergies at 650-340-7022 x369.
Lunch is eaten outdoors on a sunny patio that has native flowers blooming and occasionally bees are  present.
If your child has food sensitivities or food allergies, please pack them their own snack each day (in addition to their lunch).
Please be aware that we are NOT a peanut-free facility and while campers never come in contact with peanuts during camp, peanut products are regularly used at our shelter.
Only medication for serious and life-threatening conditions may be brought to camp. Campers that need to take medication at camp are required to self-administer their own medication, including EpiPens. However, camp staff are happy to assist children with minor cuts, bruises, scratches, and so forth.
What is the camp fee?
There is a $425 camp fee per child.
Is this camp suitable for children with disabilities?
Absolutely! In many cases we can accommodate campers with disabilities. If your child has a disability and you want to sign them up for Animal Camp, please call Rachel Mariel at 650-340-7022 x369, prior to registration day (March 1st) to discuss whether this camp is the right fit for your child, as well as how we can accommodate your child and make sure they have a positive experience at Animal Camp.
What is your cancellation policy?
Our cancellation policy provides a refund of the camp fee minus a $25 processing charge if we are notified at least four weeks before the session starts; a 50% refund if notified at least three weeks before; and no refund with less than three weeks' notice.
What does a typical day at Animal Camp look like and how much time will my child spend interacting with animals?
Children will meet ten or more animal species throughout the week including chickens, rabbits, various reptiles, dogs, insects, cats/kittens, and more. Some species, such as wildlife, campers can see and learn about, but won't interact with. All activities and animal interactions are subject to change, sometimes on short notice. When campers are not meeting and learning about the care of different animal species, we play games, meet staff members, learn about careers with animals, discuss animal welfare issues, and explore the shelter. Each afternoon we end the day with station rotations that allow the campers to
handmake pet toys, create artwork, and complete take-home crafts.
Regarding animal interactions, most commonly volunteers and staff members bring their own pets to meet campers since these animals have been approved in advance, are well socialized, and comfortable interacting with large groups of children. Campers also have the opportunity to interact with certain shelter animals that have been approved by staff. Safety of both campers and animals is our priority and under no circumstances do we allow unsupervised children to interact with animals. Campers are not allowed to feed or clean the enclosures of shelter animals as there is extensive training that goes into these processes. While we want children to enjoy their time at Animal Camp and we know that interacting with animals is the best part about camp, it's important for campers to understand that it can be stressful for some animals to endure periods being handled, held, and pet by so many people. Therefore, we keep our animal interactions short and sweet, and we always teach campers the appropriate ways to handle and interact with a species before they are allowed to do so. Our goal by the end of the week is for campers to have a solid foundation of how to properly provide care for various animal species, as well as comprehend and demonstrate respect toward each animal, one another, and themselves.
Do you offer scholarships?