A Home for the Holidays Gala
Sit, stay, and celebrate shelter pets… from the comfort of your own couch!
Pop that tux back in your closet – but make sure your pets have their best tails on! A Home for the Holidays is returning virtually to a screen near you! We can't think of a more fun way to end this doggone ruff year than by bringing all of our favorite friends and supporters together (through the paw-some magic of technology!).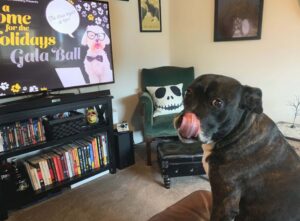 Join us online on November 6, 2021 for a tail-wagging silent auction, some of our favorite shelter stories from this past year, and a parade of shelter pets! Learn more about this year's fabulous event here! All funds raised benefit our Hope Program, which gives us the ability to treat and find homes for animals who are brought to us needing above-and-beyond care.
Register for our virtual Gala!
If you are interested in becoming an event sponsor or need assistance registering for this event, please contact Lauren Schneider at (650) 340-7022 ext. 375 or Lschneider@phs-spca.org
Get the inside scoop!
Don't miss an update about our news and events. Sign up for the PHS/SPCA Newsletter here!
THANK YOU TO OUR GENEROUS 2021 SPONSORS!
Carter & Kelly Beim  ⋅  Justin & Amanda Brown Chang ⋅  Jean-Pierre L. Conte & Hillary Thomas, J-P Conte Family Foundation ⋅ Laura & Tom Faust and Pooch Kona ⋅  Billy & Vanessa Getty ⋅ Valerie Hubachek ⋅ Ken Goldman Family ⋅ Tom & Tammy Kiely ⋅ Joe & Nicole Lacob ⋅ Dr. & Mrs. William Montgomery ⋅ Ian & Aleksandra Parker ⋅ Anthony Tansimore ⋅  Nancy & Brian Schlesinger