A Home for the Holidays Gala
SAVE THE DATE… we can't wait to celebrate with you on November 6, 2021!
..stay tuned, details coming soon!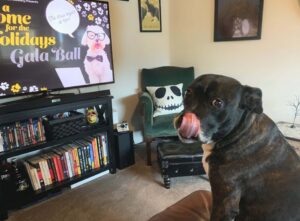 Last year, you stepped up to raise over $175,000 during our FIRST EVER virtual gala in 2020! All funds raised went straight to shelter animals in need of help through our Hope Program – providing intensive medical and behavioral care to the neediest of shelter animals and giving them a second chance to find a loving home. We hope you'll join us again this fall!
Get the inside scoop!
Don't miss an update about our news and events. Sign up for the PHS/SPCA Newsletter here!
If you are interested in becoming an event sponsor or would like more information about this event, please contact Lauren Schneider at (650) 340-7022 ext. 375 or Lschneider@phs-spca.org
THANK YOU TO OUR GENEROUS 2020 SPONSORS!
Amanda Brown & Justin Chang  ⋅  Camilla Cotchett and Teddy ⋅  Carter & Kelly Beim ⋅ Cindy & Bill Montgomery ⋅  Gary Patterson & Francisco Hernandez   ⋅  Ian & Aleksandra Parker ⋅ Jerry & Candy Griffin ⋅ Joe & Nicole Lacob ⋅ Jean-Pierre L. Conte & Hillary Thomas, J-P Conte Family Foundation ⋅ Ken Goldman ⋅  Kennon Hudson ⋅ Law Office of Lorraine A. Smith ⋅ Mark & Stacey Jamison ⋅ Marlene & Ron Ross ⋅ Schmidt Family ⋅ Tom & Tammy Kiely ⋅  Vanessa & Billy Getty