Junior Volunteer Positions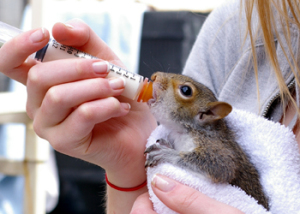 We offer volunteer positions for youth 13 to 17 years of age and require a commitment of 2 hours per week for at least six months. Volunteers ages 13-15 must be accompanied by a parent or guardian.  We are unable to accept volunteers under the age of 13.
To become a junior volunteer, simply complete a Volunteer Application and choose your orientation date. Space is limited, so please choose only one date that is convenient for you. If you would like to attend an orientation date that is already full, you can come to that orientation and try for a drop-in seat. If we have space available due to no-shows or cancellations, you are welcome to stay. If there's no room, you will have to leave and try for another date.
Once you become a volunteer, you'll be asked to purchase a "Volunteer Pack" that includes a short-sleeve volunteer t-shirt, lanyard and combination RF access keycard and identification badge. The cost of the pack is $25.99 plus tax.
Children of ALL ages can learn more about helping animals by reading our Caring For Critters Pamphlet. It includes suggestions for fundraising and collecting items to benefit the shelter animals.