Pick of the Litter Thrift Store
The thrift store is open for retail sales from 11:30 am to 5:30 pm Monday through Saturday and Sunday noon to 4 pm.
We accept donations in two ways. By unscheduled walk-up drop off or scheduled drop off (see instructions below).
For unscheduled walk-up donation drop off, the thrift store is accepting donations Monday through Saturday from 10 am to 11:30 am, or UNTIL FULL, whichever is first.   No donations are accepted on Sunday.
For scheduled donation drop off, please call our Resale Advisor at 650-490-4585.
The Peninsula Humane Society & SPCA operates a resale store at 1127 Chula Vista in Burlingame just off Broadway and close to Highway 101 and Cal Train. All proceeds directly benefit the shelter animals at PHS/SPCA. Pick of the Litter features various second-hand treasures including clothing for women, men and children, household items, art, jewelry and watches, books, records, musical instruments, cameras and vintage and costume clothing.  The Pick sells several of its thrift store items online at  

Donations
We accept for donation clothing, housewares, collectibles, books, records, CDs, art, jewelry and holiday decorations in saleable condition.   Furniture donations however are on an approval basis only utilizing our Resale Advisor. No furniture will be accepted as a walk-in donation. To schedule a drop off with our Resale Advisor, or for more information regarding donations, please call 650-490-4585. We cannot possibly list all the items we accept, but do want to list those items we do not accept for your convenience (click here).  We know you want your donation to help the animals and the items we do not accept are ones that have proven not to sell at our store.  Items that are broken, chipped, cracked, damaged, dirty, covered in pet hair, odorous, scratched, worn-out, stained, torn, wet, moldy, rusty, frayed, disassembled or incomplete DO NOT SELL.  They take up space and eventually require that we take them to the dump and use donors' funds to pay for disposal.   If you wouldn't wear it yourself, allow your child to play with it, or even want to look at it in your home, please don't bring it to Pick of the Litter.   Thanks for thinking of the animals!
It is illegal to leave donations while the store is closed.   There are cameras recording at all times and illegal dumping will be reported to the Burlingame Police Department. 
Senior Savings Day (25% off at the Pick of the Litter)
Seniors 60+ receive a 25% discount on all merchandise each Tuesday!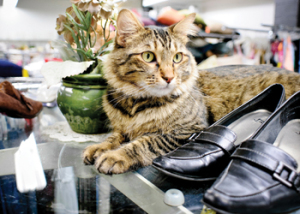 JOIN THE Pick of the litter MAILING LIST
Get advance notice of special sales,  exclusive list-only coupons and other exciting events exclusively for our thrift store customers.
This mailing list is just for Pick of the Litter news and updates.  Sign up today!