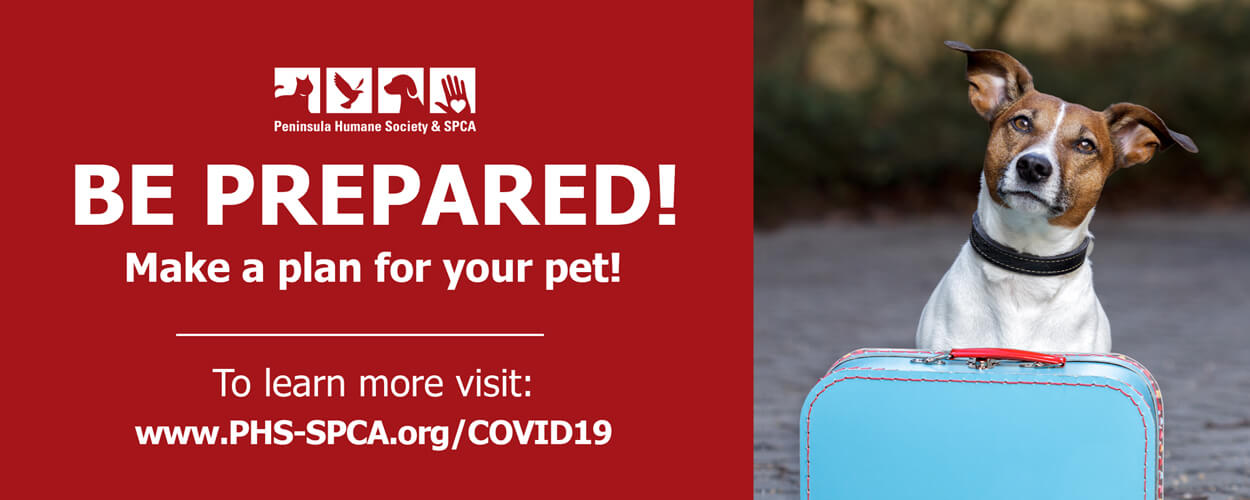 COVID-19 & Peninsula Humane Society & SPCA
The Peninsula Humane Society & SPCA remains focused on the health and safety of the animals in our care, our staff, our volunteers, and our community. Please visit www.PHS-SPCA.org/covid19 to learn more about how to make a plan for your pet during this time, and what PHS/SPCA services are still operating. This page will be updated as changes are made to our services and protocols; we appreciate your patience and understanding as we work together during this time. #PawsibleTogether
All of our animals continue to receive the food, shelter, treatment, exercise, and love they need before they find their forever homes. We are making sure that our staff and any visitors follow social distancing guidelines, and are using stringent cleaning and disinfecting processes.
In response to information received from the San Mateo County Department of Public Health regarding controlling the spread of COVID-19, Peninsula Humane Society & SPCA's Center for Compassion located at 1450 Rollins Road in Burlingame, is currently open for adoptions by appointment only Tuesday through Sunday. Please call 650-340-7022 for more information. Please know that the animals in our care will continue to be our top priority.
Our Coyote Point Shelter, located at 12 Airport Blvd in San Mateo is open for essential animal services including surrendering animals, lost and found animals.  Please call 650-340-7022 ext 339 or ext 336 for assistance.