Schedule a Spay/Neuter appointment
Please click on the button below to schedule your pet's appointment.
A $25 non-refundable deposit is required for Spay/Neuter appointments, payable when you schedule the appointment. Your deposit will be applied to your service fees the day of your appointment. The remainder of your payment is due during check-in on the day of your appointment. If you give us less than 48 hours notice before you cancel/reschedule or no call/no show, you will lose your deposit.
Please note we are currently scheduling spay or neuter surgeries for one month out.

Rabbits are very sensitive to stress and long-distance travel, especially post-surgery. For this reason, we are only performing spay/neuter surgeries for rabbits who live in the following counties: San Francisco County, San Mateo County, Santa Clara County, Alameda County, and Contra Costa County.
Online Scheduling Notes and Important Information Regarding our Spay & Neuter Clinic
Currently we book up to one month in advance and appointments fill very quickly, new appointment dates are added every weekday.
Fields with an asterisk (*) are required and must be filled in order to submit your request.
You may request up to 2 appointments per day. If you have more than 2 pets you will need to submit another request for a different day.
Dogs and cats must be at least 4 months old and Rabbits 6 months for males and 1 year for females.
Pre-surgical bloodwork is required, at an additional cost, within 1 month of your appointment for dogs 8 years and cats 10 years and older.
We require Von Willebrand Factor (blood test) for Doberman Pinschers prior to surgery (at an additional cost).
We do not accept Brachycephalic dogs or cats.
Dogs should be current on their DHPP vaccine and Cats their FVRCP vaccine. We recommend having proof ready to upload when requesting your appointment.
If your pet has any medical conditions or is taking medications other than preventatives, please explain in the notes sections on Step 3 of your appointment request.
If your pet is scheduled for the incorrect sex, you will be turned away when you arrive at your appointment and will need to go back online to request another appointment.
Please do not make more than one appointment for the same pet.
If you need an appointment you will need to request online.  We cannot schedule an appointment over the phone.
If there are no appointments available online, please wait until more appointments are released.
If you need to reschedule, we will cancel your appointment and you will need to request another appointment online.  We are unable to reschedule appointments at time of cancellation.
Appointments from  the 1st to the 15th of each month are reserved for San Mateo County residents only. If you are NOT a San Mateo County resident and you make an appointment during this time, it will be denied. Proof of residency will be required at the time of check in.
If you need additional financial assistance to have your pet spayed or neutered and you are a San Mateo County resident, we encourage you to contact the County of San Mateo for information on a Spay & Neuter Voucher https://www.smchealth.org/spayneuter-voucher-program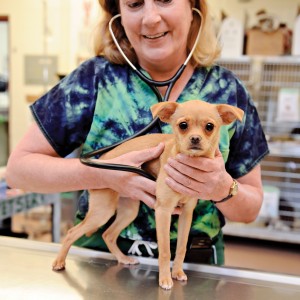 Spaying and neutering is the key to solving many of your animal's health and behavior problems and is the most effective way to stop the tragedy of pet overpopulation in San Mateo County. Trained staff in our donor-supported clinic — located at the north end of our shelter (12 Airport Blvd.) — perform spay and neuter surgeries on every animal adopted from PHS/SPCA, and provide low-cost surgeries for members of the public and their animals. Appointments are necessary.
Dogs are admitted between 7:00 am and 7:30 am. Cats are admitted between 7:30 and 8:00 am and discharged between 4 pm and 5:30 pm. Clinic hours are Monday-Friday from 7 am-12 noon,  and 1 pm – 6 pm. To make an appointment, please click the button above to schedule an appointment.
You are welcome to pay the minimum PHS/SPCA fee, however, any additional amount you can pay toward the actual cost of the surgery will greatly benefit the shelter animals. We charge additional fees for animals who are pregnant or obese or those who have had a cesarean because they require more time and medical supplies.
Males

 

Surgery Fees

Cats
 
$75
Rabbits
 
$125
Dogs*
under 20 lbs
$225
 
21-39 lbs
$245
 
40-75 lbs
$260
 
76-99 lbs
$285
 
100+
We cannot provide services for any pet over 100lbs.
Inguinal Cryptorchid*
 
Cats for one is $30; for both is $60
Dogs for one is $60; for both is $110
Umbilical Hernia (Cat)*
 
$40
Umbilical Hernia (Dog)*
 
$85
| Females |   | Surgery Fees |
| --- | --- | --- |
| Cats |   | $85 |
| Rabbits |   | $150 |
| Dogs* | under 20 lbs | $250 |
|   | 21-39  lbs | $275 |
|   | 40 -75 lbs | $300 |
|   | 76-99 lbs | $350 |
|   | 100+ lbs | We cannot provide services for any pet over 100lbs. |
| Umbilical Hernia (Cat)* |   | $25 |
| Umbilical Hernia (Dog)* |   | $75 |
| Other Services** |   |
| --- | --- |
| Catheters for female dogs (as necessary) | $40 |
| Deciduous teeth | $15 each |
| Ear mite medication | $20 |
| Vaccines (FeLV, DHPP, FVRCP, Rabies) | $15 each |
| FeLv/FIV test | $30 |
| Nail Trim | $10 |
| Obese* | $50 |
| Pre-surgical lab work (as necessary) | $160 |
| Von Willebrand Factor (Doberman Pinscher) | $200 |
| Microchip | $30 |
| Tapeworm treatment | $25 |
| In heat/Pregnant cat* | $50 |
| In heat/Pregnant dog* | $75 |
| Subcutaneous Fluids (as necessary) | $15 |
| E-Collar | $10 |
*In addition to spay or neuter fee
**Other Services are available only in conjunction with spay or neuter surgery and are not stand-alone services.
Fees subject to change.