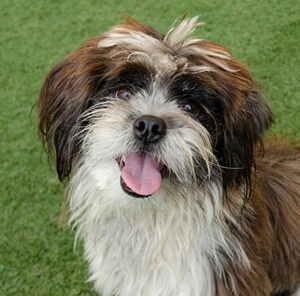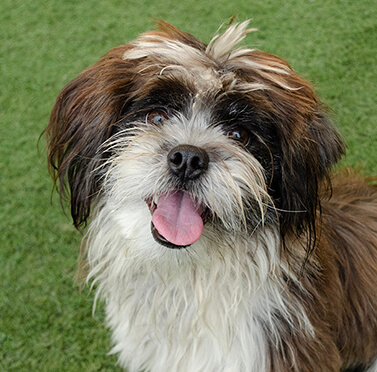 Animals need a good diet and "hair care" routine, just like humans do. When Panda was surrendered to PHS/SPCA, he had scabbing all over his body due to a food allergy, skin infection, and skin mites, as well as matted fur from lack of proper grooming.
PHS/SPCA staff gave Panda proper grooming and medical care for his fur and skin. It made all the difference in the world for his health.  However, Panda didn't need just one or two baths, he needed weeks of treatment.
Due to the contagious nature of Panda's skin mites, he couldn't be around other dogs. Thanks to our Hope Program, we facilitated a foster care family for Panda.
Panda's foster family gave him a yard to run around in, long walks, plenty of medicated baths, and lots of love. During this time, Panda also had regular check ins with our veterinary staff who monitored his care. This was the perfect combination for Panda's road to recovery. Panda's 38 days receiving treatment in foster care made a world of difference to our fluffy friend.
Once Panda received a final health check to confirm the skin mites were gone and his scabbing had fully healed, he was ready to become available for adoption and find his new family.
Upon returning from foster care, Panda was greeted with smiles and hugs from our staff and volunteers. Many had seen Panda on his first day at PHS/SPCA and were shocked to see his transformation. He looked like a completely different dog!
With a cute face like his, it was not long before Panda found his forever family. Including his time in foster care, Panda spent a total of 68 days in the care of PHS/SPCA.
Thanks to the loving care of Panda's foster family, our veterinary staff, and supporters of our Hope Program, Panda received the medical treatment and time to recover in foster care.
Adoption Update: September 2022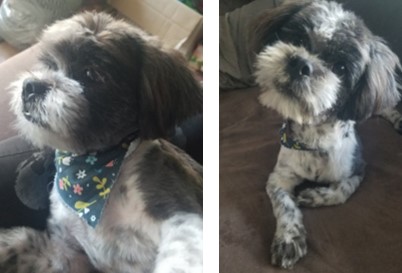 Panda's family continues to give him the regular care and grooming he needs to keep his fur and skin looking and feeling great. They also found him adorable ties and scarves to wear! His pawrents tell us, "Panda is an extreme delight to be around. He is such a happy boy and so full of love. He loves his toys, his bed, and playing with balls."
Watch Panda's full transformation video here: