Becoming a Pet Assisted Therapy Team
(Frequently Asked Questions)
Pet Assisted Therapy Candidates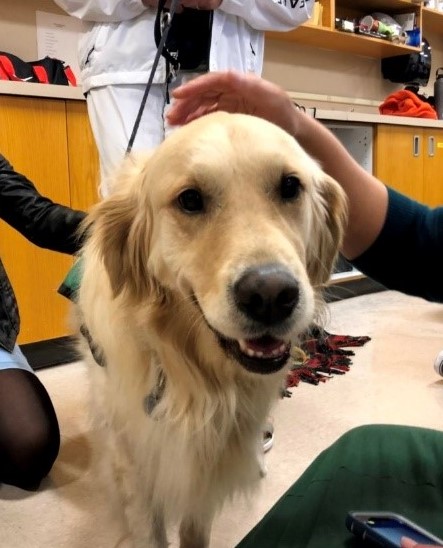 Therapy animals come in all sizes and breeds. The most important consideration is that your animal has a good temperament. Therapy dogs must be gentle, friendly, obedient, patient, confident and at ease in all situations. Cats, rabbits, and Guinea pigs that are gentle and not overly-stimulated are good candidates for the program. Only the most social, engaging animals and their companions become Pet Assisted Therapy teams at PHS/SPCA.
To be considered for the Pet Assisted Therapy program your animal must:
Enjoy interacting with people and being touched.
Show confidence in new environments.
Remain calm around other animals.
Have been your companion for at least six (6) months.
Be a minimum of one (1) year old.
Please note that therapy animals are not legally defined as "service" or "assistance" animals. Service animals are working dogs trained to perform specific tasks relating to their owner's disability. If you are interested in your animal being designated an assistance animal, please visit the San Mateo County's website by clicking here.
Obedience Training & Evaluations
PHS/SPCA offers obedience training and the Canine Good Citizen (CGC) training and test several times a year. As a prerequisite to the CGC, a dog must have already completed a beginner obedience training class. The animal must also pass a temperament evaluation that measures the animal's natural or instinctive behavior. For information on the CGC, click here.
Frequently Asked Questions
What are the steps to become a Volunteer Pet Assisted Therapy team?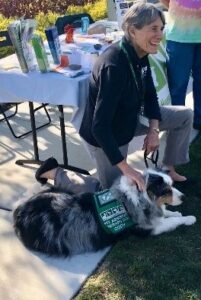 Pass AKC Canine Good Citizen test
Complete a Brief Phone Interview
Pass a Temperament Evaluation
Receive a Veterinary Screening
Complete an Orientation, Trainings and Shadowing/Mentoring sessions
What is the difference between temperament and obedience training?
Temperament is the animal's natural or instinctive behavior. Obedience training is teaching an animal to follow cues while under the guidance of a handler.
Why should Therapy Animals be temperament tested?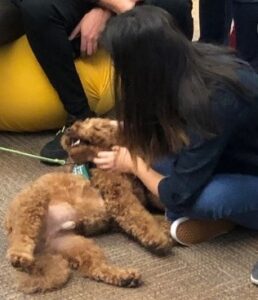 Animals who participate in Pet Assisted Therapy are placed in potentially very stressful situations each time they work with people. It is important for the safety of all involved that animals instinctively react in a safe, predictable way during their visits.
What health screening is required for Therapy Animals?
A veterinarian screens for intestinal parasites, overall health and any chronic illness that might interfere with the animal performing at their best. Owners must also provide proof that all vaccinations are current and dogs, cats and rabbits must be altered.
Do we certify animals for other programs?
No. PHS/SPCA developed the certification process for animals who participate in its Pet Assisted Therapy. Because we provide our team members with training, liability insurance and approved facilities for them to visit, we can only certify team members who volunteer in our program.
Is there a charge to participate in this program?
There is a fee for the CGC training and evaluation, cost for your animal's veterinary screening, volunteer shirt and Sterling Volunteers background check submitted directly to PHS/SPCA.
Are all these "hoops" and steps worth it?
Absolutely! We take pride in the fact that our program is meaningful and safe. our volunteers would say the process to become certified and the visits they provide are incredibly rewarding.