Corporate Promotions
Please consider supporting these businesses which have ongoing promotions that directly help our animals.

Are you a Basementeer? You can support shelter pets every time you shop for gear, equipment, and gifts for the outdoorsy people (and pets!) in your life! We're excited to say that if you're part of the Sports Basement "Basementeer" loyalty program, you can now choose PHS/SPCA as your charity of choice. That means every time you shop, you'll get 10% off your purchase and an additional 10% of the profits is donated to our shelter pets!
New Basementeers can join the program for a one-time fee of $25 to Sports Basement, which is good for a lifetime!

Ropes For Rescues
Calling all rock climbers and arborists! We are excited to be partnering with Ropes for Rescues, a program through Dog Patch SF. Ropes for Rescues is a recycling program that gives climbing and arborist ropes a new life as dog leashes, while giving back to animal rescues. When you need to retire your ropes, bring or ship them to Dog Patch SF! They collect these donated ropes, wash the ropes in dog friendly soap and re-purpose them into durable, eco-friendly dog leashes. 10% of the leashes made from your rope will be donated to a shelter! Click the link to find out how to donate your old ropes to transform them into leash for PHS/SPCA dogs! http://www.dogpatchsf.co/ropes-for-rescues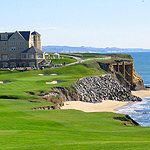 In addition to being a pet-friendly resort, the Ritz-Carlton, Half Moon Bay has a Posh Pooch Program with special amenities for dogs! They believe four-legged friends should enjoy the same outstanding luxury as their families, and are confident that your best friend's reviews will be paw-sitively glowing! For every person who takes advantage of this program, a donation will be made to our Hope Program. Click here for more information about bringing your pampered pooch along.

Coffee-loving pet people, this partnership will have you percolating with happiness! If you use code PeninsulaHS when purchasing any of the tasty coffee beans, grounds, or pup-centric merchandise at
Grounds & Hounds, you'll receive 15% off your order – and best of all, the animals at PHS/SPCA will receive 10% of the proceeds!
Click this link to make sure your discount is auto-applied: https://groundsandhoundscoffee.com/discount/PeninsulaHS