F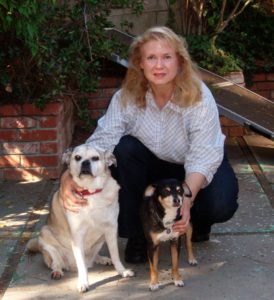 rom "Day 1", Lisa grew up with dogs; the first were her family's beagles. After earning a B.S. Degree and having a 10+ year career in high tech, she eventually surrendered to her love of animals
Her animal career has spanned 15+ years and employment at several humane societies and training facilities. Lisa is a part-time employee of PHS-SPCA, teaching classes and doing behavior consultations.
Lisa is a graduate of the Canine Behavior Academy and the Academy of Dog Behavior (advanced level) and has attended numerous seminars with renowned behaviorists such as Trish King, Ian Dunbar, Sue Sternberg, Pia Silvani, and Suzanne Clothier. In 2016, she passed the requirements to become a Certified Professional Dog Trainer (CPDT-KA). She is also a member of the Association of Professional Dog Trainers.
Lisa and her husband share their lives with their dogs Zoe, Baxter, and Yub Nub, all from shelters or rescues, and Lisa has a passion for shelter dogs, shy dogs, and senior dogs.